Mihajlovic on 9/11: The whole world must fight both terrorists and those who help terrorists
Thu, 09-12-2019 - 09:51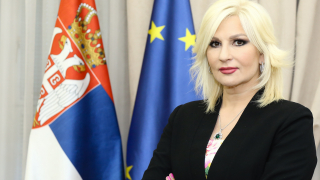 Deputy Prime Minister, prof. Zorana Mihajlovic PhD., said the terrorist attack on New York on September 11 was a reminder to humanity of the danger posed by terrorists.

"Terrorists killed three thousand people in New York 18 years ago, killed 344 people, including 186 children, at a Russian school in Beslan, killing people in Paris, Brussels, Berlin and still killing people around the world. Terrorism is a global threat that every country must fight, fight every day, as the whole world must condemn all those who support terrorists," Mihajlovic said.
She warned that no one should keep their eyes closed that terrorists fighting in the wars and participating in conflicts in the Middle East continue to be organized in Kosovo.
"No one should support terrorists, but also those who help terrorists. Serbia knows very well how much harm Kosovo Liberation Army has inflicted on Serbs and Albanians, and no one has the right to forget it," Mihajlovic warned.