Mihajlovic: Airline between Belgrade and Pristina when conditions are created
Mon, 01-20-2020 - 14:31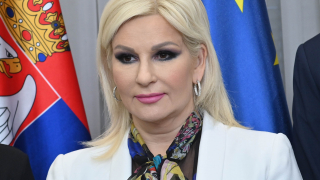 Deputy Prime Minister and Minister of Construction, Transport and Infrastructure, prof. Zorana Mihajlovic PhD, said today that it would be good if there were flights between Belgrade and Pristina and that administrative and technical conditions were created to enable this.

"As we have bus lines between Belgrade and Pristina, we believe that such a line can only do well, and we are ready to work to create administrative and technical conditions for it," Mihajlovic said when asked after the signing of cooperation agreement and contractual agreement for the wastewater collection and treatment project of the central sewerage system of the City of Belgrade.
Commenting on the announcement that the Ministry of Economy will sign a Memorandum of Understanding with the German airline Lufthansa, and that the line could come to life after the fees have been abolished, Mihajlovic said that administrative and technical conditions firstly relate to Belgrade to certain points on the administrative line, and then further to Pristina, and that an appropriate agreement with UNMIK should be reached to do so when conditions are created.

Mihajlovic emphasized that Serbia is making small airports and that in addition to Nis and Kraljevo airports, it is planned to develop other small airports in Serbia.
"Construction of a new flight control tower is starting at Airport Nis this year, as will be done at Belgrade Airport. Design and technical documentation for the construction of a new runway at Airport Morava is also being prepared. We are also planning to develop Ponikve Airport near Uzice, which could be attractive primarily for tourism. Investments in that airport should start in 2021, in the amount of 5 to 10 million euros. Also, there is an interest in the development of Bor and Novi Sad Airports," Mihajlovic said.