Mihajlovic and Godfrey: Infrastructure is the best way to connect the region
Tue, 02-04-2020 - 14:00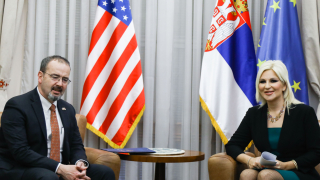 Deputy Prime Minister and Minister of Construction, Transport and Infrastructure, prof. Zorana Mihajlovic PhD, spoke with US Ambassador to Serbia, H.E. Anthony Godfrey, about current infrastructure projects.

Mihajlovic informed Ambassador Godfrey about the dynamics of realization of the project of construction of Morava corridor, which is being carried out by the American company "Bechtel".

"It is Serbia's interest that one of the most successful construction companies in the world realizes this important project. Serbia is also embarking on the construction of "highway of peace" from Nis to Merdare, which will contribute to regional stability and integration," Mihajlovic said.
Deputy Prime Minister stressed that it is of utmost importance that Belgrade and Pristina agree on establishing rail and air transport as a part of finding a compromise solution for Kosovo.

Ambassador Godfrey pointed out that Bechtel is very dedicated to the construction of Morava Corridor and welcomed the decision of Belgrade and Pristina to establish transport connections.

"We are fortunate that things are going in a positive direction and we will continue to support the process. Serbia has a leadership position in the region and is important for maintaining stability," said Godfrey, and thanked Deputy Prime Minister Mihajlovic for the support she provided to the Congress of Serbian-American Friendship.