Mihajlovic and Gonzalez Carvajal: Serbia and the World Bank are partners in the development of the transport sector
Mon, 01-27-2020 - 08:29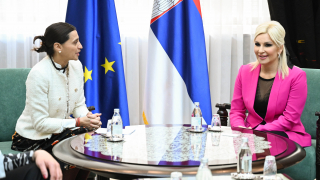 Deputy Prime Minister and Minister of Construction, Transport and Infrastructure, prof. Zorana Mihajlovic PhD, spoke today with World Bank Transport Manager for Europe, Karl Gonzalez Carvajal, about reforming the road and rail sectors in Serbia, developing water transport, as well as co-operation in the field of gender equality.

"The World Bank is a partner of the Government of Serbia and the Ministry and I am pleased that we have enriched our cooperation with cooperation in the field of gender equality, where together we have done the first study on gender equality in transport, whose findings we will incorporate into transport policies and a new transport strategy that we will work," Mihajlovic said.
She said that in the coming period, special emphasis will be placed on the modernization of the railway sector, adding that the value of projects in the sector amounts to almost six billion euros.

Gonzalez Carvajal said that the World Bank is very active in the Western Balkans region, where it seeks to bring best practices and honest recommendations on increasing competitiveness and economic growth.

"The World Bank recognizes Serbia as one of the leaders in a project dedicated to facilitating trade and transport in the region, whose activity is an important incentive for others to go in the same direction," she said.

Gonzalez Carvajal stated that the World Bank is also interested in supporting the development of plans for urban mobility.