Mihajlovic and Lo Cascio: Completion of Corridor 10 is important for the EU
Tue, 05-21-2019 - 14:39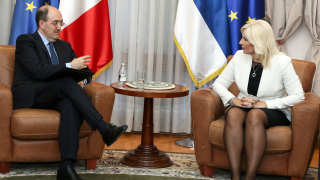 Deputy Prime Minister and Minister of Construction, Transport and Infrastructure, prof. Zorana Mihajlovic PhD., met today with Ambassador of Italy to Serbia, H.E. Carlo Lo Cascio, with whom she discussed the improvement of cooperation between the two countries in the field of transport.
 
Lo Cascio congratulated Deputy Prime Minister on completing and releasing the Southern fork of Corridor 10 through Grdelica gorge, and stressed that Serbia has support when regional connectivity and infrastructure construction is in question.

"Italy will continue to provide strong support on Serbia's path to the European Union. Completion of Corridor 10 is of great importance in this process, you have once again sent a message to citizens who represent values ​​and goals, "said the Ambassador of Italy in Serbia.
Deputy Prime Minister Mihajlovic agreed that Corridor 10 is very important for the country and expressed the belief that cooperation with Italy will be even better, especially in the area of rail transport.

 
Mihajlovic and Lo Cascio agreed that the signing of a bilateral agreement between the Ministry of Construction, Transport and Infrastructure of Serbia and the Italian Ministry of Infrastructure and Transport would be of great importance for both countries in order to develop and improve cooperation in the field of railway infrastructure.