Mihajlovic and Lo Cascio: For even better cooperation between Serbia and Italy in the field of infrastructure
Wed, 10-09-2019 - 14:33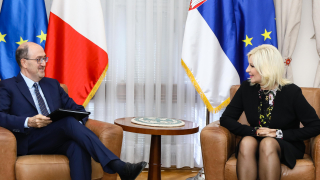 Deputy Prime Minister and Minister of Construction, Transport and Infrastructure, prof. Zorana Mihajlovic PhD., spoke today with Italian Ambassador to Serbia, Carlo Lo Cascio, on the cooperation of the two countries in the field of infrastructure and transport.

"Italy is a very important partner to Serbia when it comes to economic co-operation, investment, and whose support is also important for stability in the region. Also, there is great potential to further enhancement of cooperation in the field of transport and infrastructure," said Mihajlovic.

Ambassador Lo Cascio emphasized the progress made in cooperation between the two countries in the field of road transport and rail.

One of the topics discussed was the conclusion of a memorandum of understanding on co-operation in the field of transport infrastructure between the resor ministries of Serbia and Italy, which is expected in the coming period.