Mihajlovic and Scott about the construction of Moravian Corridor
Tue, 05-14-2019 - 16:17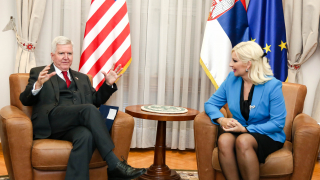 Deputy Prime Minister and Minister of Construction, Transport and Infrastructure, prof. Zorana Mihajlovic PhD, talked today with the Ambassador of the United States of America (USA), H.E. Kyle Scott, about the realization of the project of building the Moravian Corridor, ie Pojate-Preljina highway.

 
Mihajlovic said that this project, worth 800 million euros, and for which a memorandum with the American company "Bechtel" was signed, is strategically important for Serbia because it will connect the two highways, Corridor 10 and Corridor 11, through central Serbia.

 
"This highway is important for the faster development of Serbia, new investments, and regional integration. Our plan is to start works in the summer, and until then we will provide funding, " Mihajlovic said.

 
Ambassador Scott said that Bechtel has huge experience in implementing large infrastructure projects around the world and that he believes that this will be reflected in the Moravian Corridor project.