Mihajlovic and Shandong: We will build Belgrade-Zrenjanin and Zrenjanin - Novi Sad highway together
Tue, 11-12-2019 - 16:07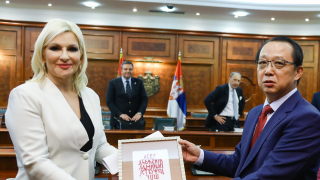 Deputy Prime Minister and Minister of Construction, Transport and Infrastructure, prof. Zorana Mihajlovic PhD, met with Meng Yang, Deputy Chairman of the Board of Shandong Highspeed Corporation, today and discussed with him the continuation of successful cooperation on new projects, first of all, the implementation of Belgrade-Zrenjanin and Zrenjanin - Novi Sad highway.
"Shandong Company is always welcome to the Government of Serbia. Bearing in mind the excellent cooperation that we have accomplished in the construction of highway Milos the Great, we wish to continue our joint work on new road construction projects from Belgrade to Zrenjanin and from Zrenjanin to Novi Sad. Major projects are also important and we wish to work as a joint team in their realization," said Mihajlovic.

Deputy Prime Minister added that the Government of Serbia and the ministry that she leads have excellent cooperation with Chinese companies, thanks to the good relations between the two countries' presidents - Aleksandar Vucic and Xi Jinping.
Meng Yang pointed out that Shandong company is very interested in participating in the implementation of the mentioned projects, and that the experience of building highway Milos the Great and the cooperation so far are valuable for future joint work.

"In addition to these projects, we are also interested in cooperation in the so-called smart traffic. In accordance with the economic development of Serbia, we are sure that the needs for traffic improvement, traffic management and arrangement for the purpose of quality travel are present," said Meng.

At the meeting it was agreed to form a joint working group in order to realize the projects of construction of Belgrade-Zrenjanin and Zrenjanin - Novi Sad roads as efficiently as possible.