Mihajlovic and Turhan: Belgrade-Sarajevo highway is important for regional connectivity
Tue, 10-08-2019 - 09:11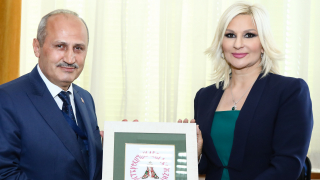 Deputy Prime Minister and Minister of Construction, Transport and Infrastructure, prof. Zorana Mihajlovic PhD, spoke today with Minister of Transport and Infrastructure of the Republic of Turkey, Mehmet Turhan, on the construction of Belgrade-Sarajevo highway and the cooperation of the two countries in the field of infrastructure and transport.

Mihajlovic thanked Turkish minister for their country's support in the implementation of Belgrade-Sarajevo highway ring project at a bilateral meeting held as a part of the visit of Turkish President Recep Tayyip Erdogan to Serbia.

"For us, this is one of the most important infrastructure projects, which is important for connecting Serbia and Bosnia and Herzegovina, but also for connecting within the region. We expect the first section, Sremska Raca - Kuzmin, on which we will begin construction works tomorrow, to be built in about two and a half years," Mihajlovic said.
Turhan recalled that at the end of 2018, a commercial contract was signed with Turkish company Tasyapi for Belgrade-Sarajevo project, and thanked Deputy Prime Minister Mihajlovic for supporting this project. "We expect that the construction of Belgrade-Sarajevo highway will contribute to better transport connectivity within the region and we are interested in continuing to support Serbia in terms of infrastructure," said Turhan.

At the meeting, the counterparts also discussed the cooperation of the two countries in road transport, where it was agreed to sign a new agreement regulating this area, as well as cooperation in air transport, especially when it comes to transporting goods.

Mihajlovic gave her Turkish colleague a gift, an alphabet in goldsmith, the work of women from rural parts of Serbia, as part of Deputy Prime Minister's practice of giving the officials she meets handmade work created as a result of the "Let's employ a Thousand Women in Rural Areas" initiative implemented by the Coordination Body for Gender Equality in collaboration with Ethno-Network and NALED.