Mihajlovic: The arrival of the DFC is important for our regional connectivity, political and financial stability
Thu, 09-24-2020 - 10:00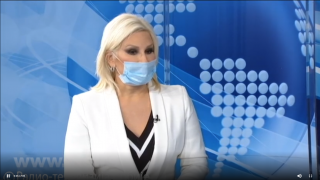 "For Serbia, the arrival of various types of capital and investments is of great importance, such as the American Development Fund (DFC), which is part of the American government and with which we will realize infrastructure projects worth 3.7 billion dollars. We are in the center of the region and it is strategically important to connect regionally, which is the policy of President Vucic and our government," said the Deputy Prime Minister and Minister of Construction, Transport and Infrastructure, prof. Zorana Mihajlovic, PhD, in the morning news on RTS.

She announced that she would meet with the DFC delegation tomorrow, with whom she would discuss specific infrastructure projects.

"We are doing what is good for Serbia. We are the center of the region and regional connection is very important for the political and financial stability not only of our country, but also of the entire region. Tomorrow, we will specifically discuss each project in both road and rail traffic. There is no need to stand and wait, we are ready, just as the American fund is ready. "There would not be more than 14 billion euros of investments in infrastructure in Serbia, nor would the best companies in the world work, if we did not have a secure business," she said.

Deputy Prime Minister also pointed out that the opening of the DFC regional office is politically important, and that the visit of President Aleksandar Vucic to the United States is important for our 130-year-long bilateral relations.

"When it comes to connecting Belgrade and Pristina, Nis-Merdare-Pristina highway of peace is one of the projects. We have provided financing for the first section, 33 km long from Nis to Plocnik, and we will discuss the construction of other sections with DFC. We will also connect in railway traffic. "When you build the infrastructure, then all the traffic is transferred to those corridors, times change, and so-called critics on duty forget that," she said.