Mihajlovic: Belgrade finally gets a wastewater treatment system
Mon, 01-20-2020 - 12:58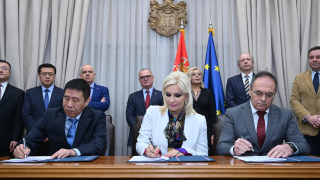 Deputy Prime Minister and Minister of Construction, Transport and Infrastructure, prof. Zorana Mihajlovic PhD, signed today together with the Director of Representative Office of China Machinery Engineering Corporation (CMEC) in Serbia, Li Xueqiang and the Director of PUC "Belgrade Water Supply and Sewerage", Dragan Djordjevic sewerage system of the City of Belgrade.

The signing was also attended by Mayor of Belgrade, Zoran Radojicic and Deputy Mayor of Belgrade, Goran Vesic, as well as representatives of the Embassy of the People's Republic of China.
Mihajlovic emphasized that Belgrade is the only city in Europe that does not have a wastewater treatment system, and that this project is of utmost importance because it is an environmental issue and a better quality of life for citizens.

"This is a capital project that everyone has to be involved in, as long as the Chinese company negotiates with the Ministry of Finance about the financing conditions, and the first phase alone will cost € 271 million. With today's signing of the of the Cooperation agreement we will go into investigative actions - making all the studies and analyses so we do not waste any time", she said.

Mihajlovic pointed out that 190 million cubic meters of wastewater are poured into Sava and Danube, which is comparable to 60 thousand Olympic swimming pools or 19 million water tanks.
"But we are not stopping here, through the new investment plan Serbia 2025, we have allocated one billion euros that we will invest in other cities and municipalities in Serbia that have similar problems," Mihajlovic concluded.

Zoran Radojicic said this is an important day for Belgrade because it will solve the city's longstanding problem.

"Thanks to the financial stability of the Government of Serbia, we can jointly implement this capital project, which will be carried out to the latest standards and which will contribute to the improvement of the environment," he said.
Goran Vesic stated that 1/3 of the city has no sewage system, while the remaining two thirds flow into Sava and Danube.

"With the construction of this facility, 80 % of wastewater discharges to Sava and Danube will be eliminated. The first and largest plant will cover 1.5 million citizens, while we plan to build four more. Thank you to the Government of Serbia and Deputy Prime Minister Mihajlovic, as well as to President of the Republic of Serbia, Aleksandar Vucic, without whom the realization of this project would not be possible," Vesic said.

Li Xueqiang stressed that Belgrade will have a double benefit from this project - it will improve the quality of life of citizens and avoid the risk of flooding.