Mihajlovic: Challenges are many, with coordinated work we create a level playing field for Roma men and women
Fri, 10/25/2019 - 08:33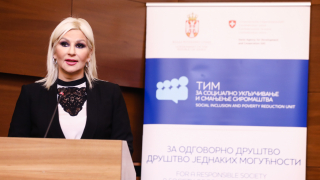 "There is no area in the social sphere when it comes to the inclusion of Roma we are not working on. There are many challenges, stereotypes and problems, but with coordinated activities, we are working to create a level playing field for members of the Roma community in education, health care, housing and employment," said today Deputy Prime Minister of Serbia and President of the Coordination Body for Monitoring the Implementation of the Strategy for Social Inclusion of Roma men and women, prof. Zorana Mihajlovic PhD.

Mihajlovic, when opening the seminar on social inclusion of Roma community, emphasized that Coordination Body should be an even stronger engine in this area, and that coordination not only with the state institutions but also with the non-governmental sector, which works a lot on these topics, should be stronger.
"Every citizen of Serbia is equally important to us and creating equal conditions for development is one of the priorities. Today we will also discuss what we have done in the meantime and how to be more efficient in the future. With the strong political will of Serbian Government, and the awareness of each of us of the problems our Roma fellow citizens face, we can be a much better and more developed society," she said.

Marta Garcia Fidalgo from the European Commission said that all countries in the region, but also the European Union, face challenges and problems when it comes to integrating Roma into society.
"Serbia has made progress in the field of housing and education, but also in preventing health care and regulating the documents of members of Roma community. This does not mean that the work is completed and we expect Serbia to remain a leader in the region in this area," she said.

Fidalgo added that European Commission will continue to support social inclusion of Roma and that € 30 million has been set for this field this year.
Dalibor Nakic, president of the National Council of Roma National Minority, said the biggest progress has been made in education and housing.

"We appreciate the efforts that the state, led by the President of the Republic, is to improve the status of Roma. I believe that with this kind of social policy, better days come for Roma community. Teaching assistants, health mediators and mobile teams are a great support to us in social inclusion," said Nakic.