Mihajlovic on Conclusion of Corridor 10: A new page in the development of Serbia and the region has been opened
Sun, 05-19-2019 - 17:40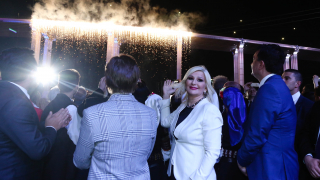 Deputy Prime Minister and Minister of Construction, Transport and Infrastructure, prof. Zorana Mihajlovic PhD., said today that the completion of the Southern fork of the Corridor 10 is a turning point in the connection and faster development of Serbia.

"Every new segment we completed on Corridor 10, brought us new factories and facilities, more traffic and better life in the places along which the highway passes. The completion of the entire Corridor 10 from the north to the south of Serbia is much more than that because it changes the image of the whole country, which can take advantage of the shortest route between Central and Southern Europe and part of the Pan-European Corridor 10, "says Mihajlovic.

She stressed that the transport map of Europe cannot be complete without Serbia and without Corridor 10, as Serbia cannot develop faster if it is not infrastructurally connected with its neighbors.

"Serbia that is stable and which connects, is Serbia that creates the conditions for its own economic progress and for a better life of its citizens, but also contributes to the development of the whole region, because there is no development without connectivity. With the end of the South Fork of Corridor 10, we closed one and opened a new page in development, and we are turning to new projects and a new investment cycle, " says Mihajlovic.