Mihajlovic: For the construction of the fast road to Golubac 350 million euros
Tue, 06-04-2019 - 14:56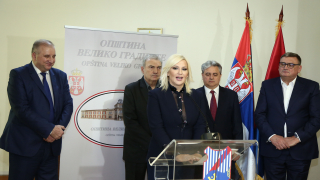 "Work on the construction of a fast road from the highway at the turn for Pozarevac to Veliko Gradiste and Golubac will begin in 2020, and the estimated value of works is 350 million euros," announced Deputy Prime Minister of Serbia and Minister of Construction, Transport and Infrastructure, prof. Zorana Mihajlovic PhD.

"All citizens of Branicevo district are particularly interested in building a fast road from the highway near Pozarevac to Golubac, which will be one of the most beautiful in Serbia, as it is one of the most beautiful parts of our country," said Mihajlovic.
During her visit to Veliko Gradiste today, she talked about this project with the head of Branicevo district, Aleksandar Djokic, and the president of the municipality of Veliko Gradiste, Dragan Milic.

Mihajlovic said that PE "Roads of Serbia" is the investor of this project and they are already working on technical-project documentation.

"This year the documentation must be completed, and in 2020, works can start. This highway will be very important for economy and tourism, but it is important for the citizens of this region, since it will contribute to the families living in this part of Serbia " said Mihajlovic.