Mihajlovic: Construction workers and truck drivers are also heroes
Fri, 03-27-2020 - 10:42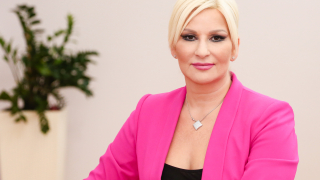 Deputy Prime Minister and Minister of Construction, Transport and Infrastructure, prof. Zorana Mihajlovic PhD, said in an interview with newspaper Kurir that the current damage in traffic and infrastructure due to the virus epidemic in Serbia is around 120 million euros, and that by the end of the year it could reach 600 million euros, and that the Ministry together with companies in this sector works on a comprehensive recovery plan.

"Air traffic was the most affected because all commercial flights from our three international airports were suspended. We all need to be involved in the rehabilitation together, which is why I called on companies working in transport, infrastructure and construction sectors to let us know about problems so that we can solve them together, but also to propose a comprehensive, realistic recovery plan for our sector in the aftermath of a pandemic, to do it together," Mihajlovic said.

She stressed that the Ministry's main job in times of emergency, COVID-19 epidemic and the drastically reduced movement of people was not to stop transit, transport and supply of citizens, as well as projects in infrastructure and construction. "That's why every company, every worker is important to us and their protection is the most important. We urged investors to do their best to maintain the level of work, to provide all necessary protection for workers and to comply with Government's measures," she said.

Deputy Prime Minister says that, according to the information available to the Ministry, these measures are respected and that depending on the day, between 1,500 and 2,300 workers are at the largest construction sites.

"Workers are also heroes of this country today, as are our doctors and nurses' greatest heroes. Heroes are also all our drivers who transport goods every day to be in stores, customs officers, police officers, inspectors and soldiers protecting our borders.

When asked about measures the state is preparing to help companies, Mihajlovic said that the crisis headquarters for the elimination of the effects of virus corona on the economy is led by President of the Republic of Serbia, Aleksandar Vucic, and that a comprehensive assistance program is being worked out every day, which will mainly focus on private companies that are losing the most.

"What we will certainly not allow is that any past debts are paid out of this program. The state is ready to take on a fair share of the cost due to this epidemic, in agreement with the economy, but businessmen themselves will have to participate. I know that it is not easy for private individuals, that hotels do not work, that many shops do not work, that part-time is reduced ... But I ask them to do everything in their power to preserve their workers, because this will not last forever, they will need workers even after this. It is the easiest to say that there is no money and to give up, but this is a time for solidarity," Mihajlovic said.