Mihajlovic: Corona virus caused a health and economic crisis, personal responsibility is important
Fri, 07-03-2020 - 14:10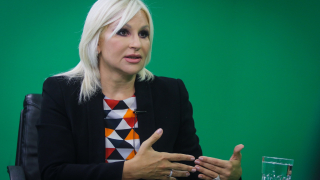 Deputy Prime Minister and Minister of Construction, Transport and Infrastructure, prof. Zorana Mihajlovic, phD, stated as a guest on TV As in Sabac that the crisis caused by the corona virus will last and that we must learn to live with it.
"Apart from health, this is also a severe economic crisis. It has never happened in the world that the gross domestic product and economic development are falling at that speed. This cannot but affect us as well, but according to the estimates of the IMF and the World Bank, Serbia will have a lower decline than many countries in the region, because we are a small country and quite elastic in the economy. "As before, the state will do everything to save the economy, and everyone who can work now should work," she said.
Mihajlovic reminded that no construction site in Serbia has been closed for all this time and that there are 59 thousand of them active.
"To date, 5,700 workers have been hired on our construction sites. We are building about 630 km of roads, 300 km of railways, 2,500 apartments for members of the security services. This is extremely important, because in this crisis situation, construction and agriculture are two activities that will help the economy survive," said Mihajlovic.
Deputy Prime Minister also reminded that personal responsibility is very important in preserving health.
"Everyone who is serious has to think that way. I also think about my family and my 77-year-old mother, as well as the people I work with in the office. I realized during all this time that personal responsibility is very important. We as a nation have that kind of unity when there are crises and problems and it should stay that way. There is fear, of course, but if we take care and look after others, I am sure that we will go through everything in the next few months. By taking care of ourselves, we also take care of others ", said Mihajlovic.