Mihajlovic with "Corridors of Serbia" about large infrastructure projects
Mon, 06-22-2020 - 11:22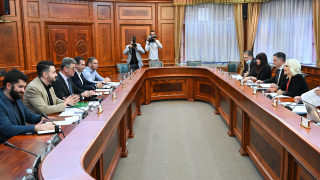 Deputy Prime Minister and Minister of Construction, Transport and Infrastructure, prof. Zorana Mihajlovic phD, met today with Milovan Bekric, assistant director, and the team of engineers of "Corridors of Serbia" and talked with them about the implementation of infrastructure projects in which this company is an investor.

On this occasion, Mihajlovic emphasized the importance of the construction of Morava Corridor, which will connect half a million citizens of Serbia living in central Serbia, as well as Corridor 10 and highway "Milos the Great".

"We are talking about one of the most complex projects that we are implementing with one of the best companies in the world, you have great experience and I expect that the works will be performed according to the highest standards, quality and agreed deadlines. The Ministry is here, as before, to provide all the support to be even better and more efficient," she said.

The construction of the highway Nis-Merdare-Pristina was also discussed at the meeting, as well as the construction of the highway and the fast road Ruma-Sabac-Loznica.

"We expect that the construction of the first section from Nis to Plocnik in the length of 33 km to begin in the first half of the next year, while the works on the bridge on Sava river to begin next week," the representatives of "Corridors of Serbia" pointed out.