Mihajlovic with the delegation of "Alstom" on the construction of the Belgrade metro
Tue, 06/11/2019 - 14:19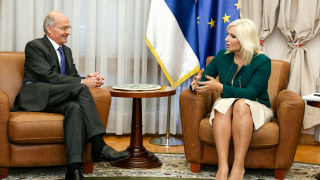 Deputy Prime Minister and Minister of Construction, Transport and Infrastructure, prof. Zorana Mihajlovic PhD., spoke today with the delegation of the French company "Alstom" on the realization of Belgrade metro project.
 
"The construction of the Belgrade subway is important not only for Belgrade, but it is a project of national importance, which is why a working group of the Government was formed to monitor its realization. Through this project, we expect to improve traffic in Belgrade, as well as that the companies involved in it, French and Chinese, will bring modern technologies to Serbia that will meet all European standards, " Mihajlovic said.
 
At the meeting, there was also a word about the structure of project financing that will be considered in particular, considering the current plan to start building the first and second line of the metro, and not the third, as mentioned in the public.
Representatives of "Alstom" pointed out that for such a big project, such as the "Belgrade Metro", it is important to determine the way in which each participant, in accordance with the knowledge and technology at its disposal, will participate in the project and contribute to its successful realization.
 
Mihajlovic said that a feasibility study with a general project, as well as a plan of Belgrade metro lines, prepared by the French company "Egis" will be presented on Friday at the Working Group meeting for the realization of the project for the construction of the Belgrade Metro.