Mihajlovic with DFC: Big projects ahead of us, the goal is regional connectivity
Thu, 09-24-2020 - 10:50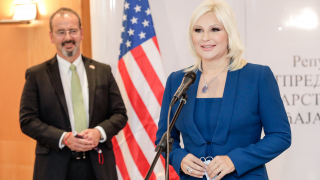 Deputy Prime Minister and Minister of Construction, Transport and Infrastructure, prof. Zorana Mihajlovic, PhD, met today with the delegation of the American International Development Financial Corporation (DFC) and talked with them about infrastructure projects important for connecting Belgrade, Pristina and the entire region, as well as about women's empowerment and support for women's entrepreneurship. The meeting was also attended by the US Ambassador to Serbia, Anthony Godfrey.

On this occasion, Mihajlovic stated that at today's meeting, they discussed how to improve the relations between our two countries, especially in infrastructure.

"Today, we talked about the projects that the two presidents talked about recently in Washington, as well as about the regional connection, which is of great importance for Serbia. The ministry has formed a team that will work with DFC 24 hours a day, given the large projects ahead of us," she said.

Mihajlovic added that there was special talk about Nis-Merdare-Pristina highway of peace, but also about railway traffic and regional projects.

"In the coming days, tomorrow, we will continue to prepare the documentation and the necessary information, and we will have results that we can show to our people very soon," said Mihajlovic.

Ambassador Anthony Godfrey thanked Deputy Prime Minister for the good meeting, and for professionalism, good preparation and vision of Serbia related to the region.

"I always leave inspired after a meeting with Deputy Prime Minister and her team. All this is important and in accordance with the common goal of our two countries, which was also discussed by Presidents Vucic and Trump. We are ready to work with the Ministry in order to have results that will improve the quality and standard of living of the citizens of Serbia," Godfrey said.