Mihajlovic with director of CRBC: Very soon the commercial agreement for the section New Belgrade-Surcin will be reached
Tue, 05-14-2019 - 14:38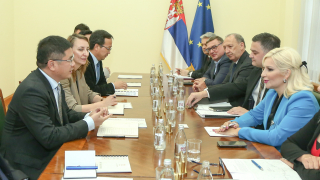 Deputy Prime Minister and Minister of Construction, Transport and Infrastructure, prof. Zorana Mihajlovic PhD, and CEO of the China Road and Bridge Corporation (CRBC), Du Fei, talked today about the current and planned projects that this Chinese company realizes in Serbia.


"Thank you for the seriousness and responsibility with which CRBC is approaching all the projects in Serbia, and we expect it to be on projects that we plan to implement in the upcoming period. For all of us, projects for which we have signed agreements with CRBC in the last few months are very important for us, and sections Novi Beograd - Surcin and Pozega-Boljare on Corridor 11, as well as the reconstruction of the Belgrade-Nis-Presevo railwayline, "said Mihajlovic.

 

Director General of the CRBC, Du Fei, informed Deputy Prime Minister that works on the section Surcin-Obrenovac on Corridor 11 will be completed by the end of the year, and that everything is ready for marking the commencement of works on the section of the same highway from Preljina to Pozega.

 

He said that the CRBC is ready to sign a commercial contract for New Belgrade-Surcin deal as soon as possible, and that technical documentation and commercial agreement for the reconstruction of the Belgrade-Nis-Presevo ​​railway line could be prepared by the end of the year.

 

The meeting also discussed the construction of the last section of Corridor 11 from Pozega to Boljare and Fruska Gora Corridor, or the fast road Novi Sad - Ruma.