Mihajlovic: Eastern fork of Corridor 10 opens on November 9th, Surcin-Obrenovac to be opened on St. Nicholas Day
Fri, 10-25-2019 - 13:16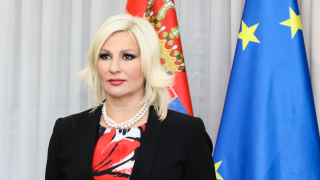 Deputy Prime Minister and Minister of Construction, Transport and Infrastructure, prof. Zorana Mihajlovic PhD., said today, while appearing in the morning program of TV Prva, that Eastern fork of Corridor 10 to Bulgaria will be launched on November 9th, while the section of Highway Milos the Great, from Surcin to Obrenovac, will be opened for St. Nicholas Day.
"From November 9th, we will have a complete highway to Bulgaria, which is very important for transit traffic through our country, but also for us, because there is no longer a thoroughfare, everything is a highway. On the other hand, section from Surcin to Obrenovac will be put into traffic, which will reduce traffic jams at Highway Milos the Great. Just as Corridor 10 is important for transit, so is Milos the Great important for citizens of Serbia," she said.

Mihajlovic added that analyzes will be carried out in the coming months regarding the construction of Corridor 10, so that the situation from this construction site will never happen again.
"We will analyze everything, to see what has happened in the last 20 years on the construction of this corridor and what should not happen to us again. Because today there is no longer any start of work or taking loans unless all the preparatory work has been completed - from good design documentation, expropriation completed, to construction permits being issued," she said.

Speaking about the railway traffic, Mihajlovic said that reconstruction of Bar railway is being continued and that it will be restored to the projected speed of 120 km per hour.

"We have reconstructed 77 km from Resnik to Valjevo, and we continue further towards the border with Montenegro. This is important for our passenger and freight traffic to and from the port of Bar. Serbian railways are changing, we are investing a lot in them and we want to bring people back to using rail transport," Mihajlovic said.