Mihajlovic: Encourages new composition of European Commission, Serbia clearly on its way to EU
Thu, 09-12-2019 - 12:25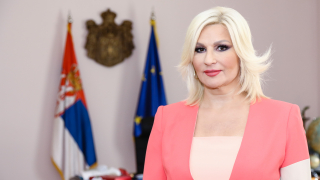 "Serbia is on the European path, we are committed to harmonizing regulations with European laws and implementing reforms in order to be a part of the European Union and that is what the Union values ​​and what should be the basic yardstick for enlargement," said Deputy Prime Minister of Serbia and Minister of Construction, Transport and Infrastructure, prof. Zorana Mihajlovic PhD.

She pointed out that it was significant that she was one of the candidates for Romania's Transport Commissioner Rovana Plumb.
"It is good for Serbia that one of our candidates is one of the candidates for the European commissioner who should lead the transport sector. We are a small country and it is important for us to connect," she said.

Deputy Prime Minister praised that there are 13 women in the European Commission.

"It is encouraging that 13 women, most of them thus far, have been proposed to become members of the European Commission. This is in support of the new EC President, who, in addition to all other tasks, including concerns about climate change, relations with China and the US, multiculturalism and protection of the European way of life, has shown that great attention will be paid to gender equality and the better position of women," she said.