Mihajlovic: By the end of 2021, high-speed railway from Belgrade to Novi Sad, highway Pojate-Krusevac and Cacak-Pozega
Thu, 09-24-2020 - 11:11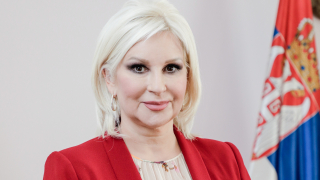 Deputy Prime Minister and Minister of Construction, Transport and Infrastructure, prof. Zorana Mihajlovic, PhD, said today that by the end of next year, three major infrastructure projects will be completed: high-speed railway from Belgrade to Novi Sad, section of the highway "Milos the Great" from Preljina to Pozega and the first section of Morava Corridor, from Krusevac to Pojate.

"In December 2021, the plan is to have the first section of Pojate-Preljina highway completed, 27 kilometers long, from Pojate to Krusevac. Also, in the fall of next year, we will complete the sections of the high-speed railway from Belgrade to Novi Sad, and then we will have the first high-speed trains on this route, which will travel for about 25 minutes. It is not just a question of connecting Belgrade and Novi Sad, but it shows how much importance the state attaches to the modernization of the railway today, " said Mihajlovic as a guest on TV Prva.

She added that the section of "Milos the Great" from Cacak to Pozega, one of the most difficult to build on the entire highway, should be completed by the end of next year.

Mihajlovic emphasized that the works on the infrastructural construction sites did not stop at any moment, not even during the most difficult times of the epidemic and the state of emergency, but that some other areas, such as air traffic, suffered significant damage.

"During the epidemic, everyone saw how important it is to have a national company, because it was Air Serbia that brought back thousands of our people from all over the world and transported humanitarian aid to Serbia." "It is indisputable that the state will help "Air Serbia", they are doing it all over the world and Europe recommends that, but we will know more about that after talks with partners in this company," said Mihajlovic.