Mihajlovic: End of works on Corridor 10 is a big victory for Serbia
Mon, 05-13-2019 - 15:19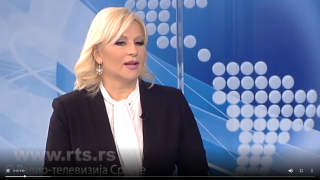 Deputy Prime Minister and Minister of Construction, Transport and Infrastructure, prof. Zorana Mihajlovic PhD., said today that traffic on the highway through Grdelica gorge will be released on Saturday, May 18th, after which 30 years later, the construction of Corridor 10 is practically completed.
 
"On Saturday, we open the entire Southern fork of Corridor 10, and from now on, only the highway will be used. This shows that we can finish such a big project. It is a great victory for Serbia and the victory of all engineers and workers who worked on the construction of Corridor 10 and has a huge significance for the regional connection of Serbia, "Mihajlovic said in the morning program of RTS.
She stressed that the citizens of Serbia will be able to see up-close and for themselves from Saturday, what kind of construction project it was when they pass through the section of Grdelica gorge. "On these sections, 250,000 tons of asphalt were installed, 650,000 cubic meters of stone were removed, two tunnels and 33 bridges built, including the two highest bridges in Serbia, the railway line and the riverbed were relocated to build the highway," she added.
 
During summer, according to her words, the remaining sections on the Eastern Fork of Corridor 10, towards Bulgaria, as well as the highway from Obrenovac to Preljina will be released into traffic.
 
She announced that on Friday, May 17th, at 12 pm, in the presence of the President of Serbia, the start of works on the construction of the section from Preljina to Pozega on Corridor 11 will be marked, which is one of three new highways whose construction will begin this summer.
"This section is worth almost 500 million euros, which is also demanding for construction, because one third of the route are bridges and tunnels, among which there will be tunnels that will be longer than those in Grdelica gorge," said Mihajlovic.
 
She added that the start of the works on two more motorways, which are part of the new investment cycle: Moravian corridor, or the Pojate-Preljina highway, and the sections of Belgrade-Sarajevo highway from Sremska Raca to Kuzmin, are planned for the summer.