Mihajlovic: Financing is the most important issue in the construction of the Belgrade metro
Fri, 06/14/2019 - 15:55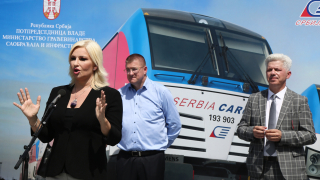 Deputy Prime Minister and Minister of Construction, Transport and Infrastructure, prof. Zorana Mihajlovic said today that the French firm Egis will present tomorrow at a working group meeting at the Government of Serbia, a plan for the first two lines of the Belgrade Metro, which they proposed in Belgrade to the City of Belgrade.

Responding to questions from journalists after the release of new locomotives at the Railway Station Resnik, Mihajlovic said that the construction of the metro is a big and expensive project, and that the most important issue is the way of financing in connection with this project.

"I'm surprised that we are talking about metro stations, as if the metro is already completed and it's just a matter of when and where to get on the train. The most important topic now is the terms of financing and the way to secure it, because, according to the study by the French company, the value of constructing the first and second lines is about 4.4 billion euros, " Mihajlovic said.

"The construction of the metro is a project that exceeds the significance of the City of Belgrade itself and that is why we have formed a working group that includes representatives of the Government. I believe that in the coming period and months we will have some proposals regarding financing, which is number one, and then there is an elaboration around the metro lines, " Mihajlovic said.