Mihajlovic: First estimates of the damage to traffic and infrastructure exceed 110 million euros!
Wed, 03-25-2020 - 11:28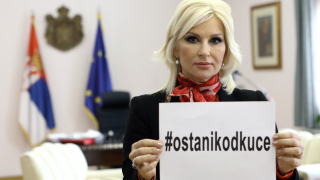 Deputy Prime Minister and Minister of Construction, Transport and Infrastructure, prof. Zorana Mihajlovic PhD, stated that there is no part of the transport system that does not suffer damage at the time of this epidemic, whether we are talking about air, rail, water or road traffic.

"The first estimates of traffic and infrastructure damage amount to more than 110 million euros! Ministry of Transport is in direct contact with all companies and on this occasion I invite all construction and road companies, as well as associations and chambers to submit their opinions, proposals and situation at the moment, so that together we can create a realistic program of measures to overcome this crisis," said Deputy Prime Minister Mihajlovic.

She emphasized that the damage assessment and the economic recovery plan were thought and worked from the first day when the infection occurred, and that a special crisis headquarters was set up, led by the President of the Republic of Serbia, on which damage assessments and measures are taken.

"Not only is it the measures that we are taking and we will take in this period, but we are also thinking about the day after and making a big program and plan for the moment when all this will end. We do everything we can to deal with as few victims and problems as possible, " Mihajlovic said.

Deputy Prime Minister pointed out that water traffic, where passenger traffic is not working, also suffered damage, and large cruisers and rail were canceled, which also recorded a small drop in cargo transport, as well as bus transport.

"Air transport is undoubtedly the most affected and so far, since the crisis began, direct damage has amounted to around 40 million euros, while damage to the economy, if we talk about the aviation industry and companies in the sector, is estimated to be even higher," she said.

Mihajlovic told all companies in the field of construction, transport and infrastructure to try to maintain as much activity level as possible, and that the Ministry is there for all suggestions and opinions, and that they can directly contact Ministry's email kabinet@mgsi.gov.rs .