Mihajlovic with the French "ALSTOM" about the construction of Belgrade metro
Wed, 09-30-2020 - 09:06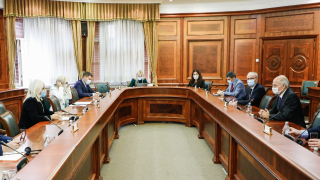 Deputy Prime Minister and Minister of Construction, Transport and Infrastructure, prof. Zorana Mihajlovic, PhD, met today with Filip Deler, vice president of "Alstom Group", and Nikola Andrije, development director of this company, and talked with them about the construction of Belgrade metro. The meeting was also attended by the Ambassador of France to Serbia, Jean-Louis Falconi.

On this occasion, Mihajlovic pointed out that Belgrade metro is one of the most important and most demanding projects that Serbia will implement and that Belgraders have been waiting for for decades.

We are glad that "ALSTOM", as one of the best companies in the world, is interested in participating in the construction of Belgrade metro, that is in the system equipping phase. The Ministry is here to provide all the necessary support and to jointly realize such an important project for us, which is backed by two presidents - Aleksandar Vucic and Emanuel Macron. "I believe that you had a good meeting with the Minister of Finance and that financial arrangements will be agreed on soon, both for construction works and for works on the system," she said.

Mihajlovic reminded that in May this year, a Donation Agreement was signed between the Government of France and the Government of Serbia in the total amount of 8.3 million euros and an agreed procedure for the realization of a donation of 0.4 million euros, and that a feasibility study for which a commercial contract was signed in July and which is made by the company "Egis".

Philip Deler said that along with the feasibility study, preparatory works for technical solutions are underway and that "ALSTOM" will actively work in the coming months so as not to waste time for the realization of the Belgrade metro project, aware of the importance of this project for the Serbian government.