Mihajlovic: I am driven by love for work, not personal zeal
Wed, 09-30-2020 - 08:54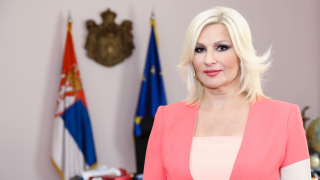 Deputy Prime Minister and Minister of Construction, Transport and Infrastructure, prof. Zorana Mihajlovic, PhD, stated today on TV Happy that, regardless of frequent attacks and articles in newspapers, she is doing what is in the interest of the state and in agreement with President Aleksandar Vucic, on whose proposal she entered the Government of Serbia.

"There are various interests and lobbies, they draw themselves. Logically, because this is a ministry with a lot of money that manages large infrastructure projects, and everyone would like that. Let me remind you, in 2014, it was not like that, we returned interest and paid penalties for unused loans. On the other hand, it is not disputable that I am ambitious, which they respect me for, I think that everyone should be ambitious in business, because that shows that you care and have a passion to do something. The essence is just what drives you - love for work or personal passion and interest. "I was always driven by love, not the desire for an armchair," she said.

Mihajlovic added that it is normal for every next government and ministers to be better than their predecessors, and not to hesitate to say at sessions what they think, which others are doing.

"There are always interesting articles in the newspapers, because that sells them. But, I came to the government at the suggestion of Aleksandar Vucic and in agreement with him, I will be there or not. What Vucic is guided by when he thinks about the new government are the results, citizens are interested in that, and not who is at the head of the ministry, Zorana, Pera or Mika. "One should not even burden oneself with that, it is known why we are here and as long as we work with all our strength and spirit, nothing can disturb us," said Mihajlovic.