Mihajlovic: I urge companies in the field of transport, construction and infrastructure to work together to create a realistic plan for recovery after the epidemic  
Wed, 03-25-2020 - 09:18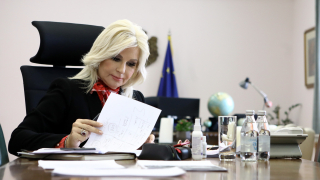 Deputy Prime Minister and Minister of Construction, Transport and Infrastructure, prof. Zorana Mihajlovic PhD, called on all companies in the line of her ministry to cooperate to work together to make a realistic plan for the recovery of this part of the economy in the aftermath of the COVID-19 epidemic.

"I urge all companies in our sector to maintain as much as they can about their activities and I urge them to let us know about any problems they have and to send us solutions to help the ministry help them in this difficult time. What I want them to do together is let's create a realistic and optimistic program of measures to help in the aftermath of COVID-19 virus epidemic so that we can recover our economy as soon as possible, " Mihajlovic emphasized, adding that they could be contacted directly by email: kabinet@mgsi.gov.rs.

Deputy Prime Minister Mihajlovic said earlier that every form of traffic and complete infrastructure each day suffers a great deal of damage as a result of the fight against corona virus and that the current damage is estimated at more than 110 million euros.