Mihajlovic: I will not give up on analyzing every dinar spent for the construction of Corridor 10
Mon, 01/13/2020 - 09:21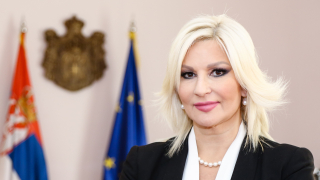 Deputy Prime Minister and Minister of Construction, Transport and Infrastructure, prof. Zorana Mihajlovic PhD, said in an interview with Belgrade-based Politika that she has no intention of giving up on checking every single dinar spent on the construction of Corridor 10.

"I will not give up. The analysis is under construction but not completed because not all works on Corridor 10 have been completed yet. There are other works that do not affect safe traffic, but which must be completed in order to additionally secure all positions both in Grdelica Gorge and on the section of the highway at the exit of Sicevo Gorge. These works will continue throughout this year. But what we know at the moment is that the construction of the Eastern fork of Corridor 10 (E-80) from Nis to Dimitrovgrad spent 485 million euros, and the construction of the Southern fork of Corridor 10 (E-75) from Nis to Presevo has so far spent 630 million euros. I promised to check every penny and I will do that," said Mihajlovic.
Speaking about the need to pass a special law on infrastructure, Mihajlovic said that the sole aim of the law is to speed up construction, and that those who criticize do so because they have never worked on infrastructure projects.
"The only reason for passing this law is speed and preventing unnecessary waste of time. Based on our experience so far, we have concluded that we spend much of our time resolving property relations before issuing necessary permits for roads, railways, etc. And that was one of the main reasons for the delays, and we don't have time to waste. In its plans for 2020 and the next two years, the ministry has projects worth around 5 billion euros, from new highways, railways, expressways, rehabilitation of 5,000 km of regional and local roads. These are all line infrastructure projects that are being built over several tens and hundreds of kilometers and several thousand cadastral parcels. And this law is necessary only to speed things up, from the process of land acquisition, to the issuance of necessary permits and the acceleration of public procurement necessary for the realization of these projects of importance to Serbia. There is no other reason, "Mihajlovic said.
According to her, construction is still the biggest engine of Serbia's development.

"Construction results in 2019 are a continuation of a multi-year trend that we expect in 2020, triggered by construction reforms and more efficient implementation of infrastructure projects. That is why Serbia is now 9th in the world in terms of issuing electronic construction permits from 2014 to 2018, from 202 billion to 332 billion dinars. The share of construction in GDP increased from 3.2% to 4.5% in the period, exceeding 5% in 2019. Only in the third quarter of 2019 we had value growth of 40% from construction works, which is the highest growth recorded, and we will have even higher growth in the last quarter of the year. In October, we broke the record again for the number of construction permits issued in one month, as many as 2,433! And in the whole of 2019, more than 21,000 construction permits have been issued, "Mihajlovic said.