Mihajlovic with IMF mission: Value of the new infrastructure projects is about eight billion euros
Mon, 05-13-2019 - 16:05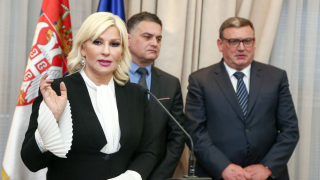 Deputy Prime Minister and Minister of Construction, Transport and Infrastructure, prof. Zorana Mihajlovic PhD., said today that the value of the new investment cycle in the infrastructure is about eight million euros, from which projects in the value of five billion euros are bound to start.


After meeting with the International Monetary Fund (IMF) mission led by mission head Jan Kees Marjin, Mihajlovic told reporters that main topics of the discussion were the management of public investments in the transport infrastructure and new projects that Serbia is starting.
 
"Serbia has completed the construction of the Southern fork of the Corridor 10, which was the priority of the previous four years, and during summer we will also release for traffic the eastern forl of the Corridor 10, and we will start new projects. The construction of the highway from Preljina to Pozega starts on Friday, and construction from Pojate to Preljina on the Moravian corridor, then on the highway from Sremska Raca to Kuzmin, as well as the highway Ruma-Sabac and the highway Sabac-Loznica, and this year a public invitation will be prepared for Nis-Merdare-Pristina highway, "she said.
She pointed out that the new investment cycle in infrastructure includes investments in rail, air and water transport. "We are continuing with reforms in the railways, with an emphasis on increasing the capacities in the part of human resources, as well as the realization of investments, primarily the construction of Belgrade-Budapest highway, the restoration of unreconstructed sections on the railway Corridor 10 and the reconstruction of the regional railways that " Infrastructure of the Railways of Serbia " does from its own resources, "Mihajlovic said, adding that among the priorities and procurement of trains and an increase in the percentage of collection.

 
Construction in the first quarter of 2019 gave the largest contribution to GDP growth as the value of works increased by more than 13 percent compared to the same period last year. "With the new investment cycle, we expect that the contribution of construction to GDP will be even more visible," Mihajlovic said.
In addition to these issues, the IMF mission also discussed the reform of the road sector, the measures for improving the rating of Serbia on the Doing business list and the implementation of the budget for capital investments, which in the previous years was above 94 or 95 percent.

 
At the meeting, Marjin stressed that economic growth and investments are in the focus of the new advisory program of the IMF's cooperation with Serbia and that they are also important for a wider assessment of the progress of the Serbian economy, which is one of the objectives of the current mission of the IMF mission.

 
The meeting was also attended by representatives of public and state companies from Ministry of Construction, Transport and Infrastructure, as well as representatives of the World Bank, led by Head of the World Bank Office in Belgrade, Stephen Ndegwa.