Mihajlovic: By implementing the reforms, Serbia has shown that it has its place among the best
Wed, 02-12-2020 - 08:28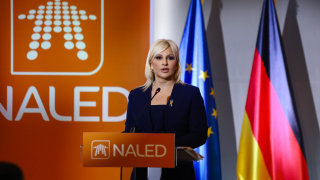 "The task of the Serbian Government is to create a favorable business environment, ensure that citizens have a better standard of living and remain in their own country. My main impression is that we managed to bring the reforms that seemed impossible to the level that we want to implement them, and today Serbia is in the company of the best in the world," said Deputy Prime Minister and Minister of Construction, Transport and Infrastructure, prof. Zorana Mihajlovic PhD.

At the XII Conference on Economic Reforms in Serbia, she said that Serbia is today ninth in the world in terms of construction permits and that by implementing reforms it has shown that it can be among the best countries in the world.
Deputy Prime Minister Mihajlovic concluded that everything Government of Serbia is doing is working to create favorable and equal conditions for both women and men, because it is the only way that the economic development of the country can be guaranteed.

Prime Minister Ana Brnabic, Minister of Finance Sinisa Mali, EU Ambassador to Serbia Sem Fabrizi, Chargé d'Affaires at the British Embassy Rebecca Fabrizi and Deputy Ambassador of the German ambassador to Serbia, Dorote Gizelman also attended the XII Conference on Economic Reforms in Serbia.

At the conference organized by the National Alliance for Local Economic Development - NALED, awards were presented for reforming the employment of seasonal workers in agriculture, reforming the registration of property rights and abolishing tax returns, as well as reforming the flat-rate taxation system and special recognition for the media.