Mihajlovic: Infrastructure as a condition for faster development of Serbia
Wed, 03-27-2019 - 13:09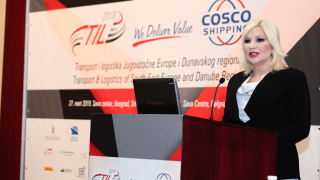 Deputy Prime Minister and Minister of construction, transport and infrastructure, prof. Zorana Mihajlovic PhD., said today that infrastructure is currently the most important area in the development of the Serbian economy and pointed out that in 2019 a new investment cycle worth 5.5 billion euros will be launched.
"Serbia is a small country behind which are many difficult years and decades, but it has risen to its feet and is developing and taking a step with the world. There is a serious difference in our strategy from six years ago and today, and in how much we are able to implement it. We have made serious breakthroughs in road infrastructure, railways, air traffic and today we are a serious partner in this part of Europe, "said Mihajlovic, who opened the conference" Transport and Logistics of South-East Europe and Danube Region - TIL 2019 ". 
She said that she did not support the term Western Balkans and added that Serbia is the country of Central and Eastern Europe, and that it is important that this part of Europe gets integrated better. "In order to raise competitiveness it is important, not only the construction of new roads and reconstruction of railways, but also the removal of non-physical barriers, which drives 30 to 40 percent of the costs that occur in transport and logistics," Mihajlovic said.

Deputy Prime Minister said that Serbia is working to create a border crossing with all its neighbors, but that this process is happening faster with non-EU countries than with EU members. "On this issue, we have to be much more unique in the region in order to have better results," Mihajlovic said.
She invited companies interested in investing in Serbia to come to discuss new projects, and stressed that it is important that the conference is attended by companies that already participate or are potential participants in projects in Serbia, as well as representatives of international financial institutions.

 
The business conference "Transport and Logistics" is organized for the sixth time by Mas Media International, supported by the Ministry of Construction, Transport and Infrastructure, and this year it gathered about 400 participants, including representatives of about 150 companies.