Mihajlovic: Joint work of Novi Sad, province and the Government of Serbia a winning combination for citizens  
Sat, 07-06-2019 - 12:36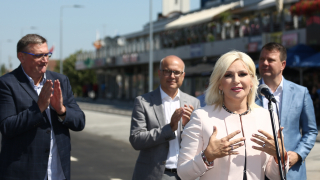 Deputy Prime Minister and Minister of Construction, Transport and Infrastructure prof. Zorana Mihajlovic PhD., attended today with the chairman of the Provincial Government, Igor Mirovic, and the mayor of Novi Sad, Milos Vucevic, the opening ceremony of Sentandrejski boulevard in Novi Sad, and on that occasion stressed that there is not a big nor small street for the government, province and city, and that the joint work is a winning combination ensuring the quality of life of citizens of Serbia.

"Everything we planned and agreed on we did. Without infrastructure there is no development, and today in Serbia we have 40,000 active construction sites, compared to a few years ago when there were only 2000. We have stable finances, we have provided a budget and we can invest in infrastructure, "said Mihajlovic.

She added that Fruska Gora Corridor, highway and high-speed roads Ruma-Sabac and Sabac-Loznica will also be built in Vojvodina, as well as the fast railway track from Belgrade to Budapest.

"Our job is to do everything and to create conditions for people to stay here and be satisfied. There is no big nor small street, every meter is important to us and we will continue to work in the best interest of our citizens, "she said.

Igor Mirovic pointed out that in the next few months, many others will be implemented, modeled on this project.

"In September, we will open a modern central kitchen for preschool institutions, in October, a part of the science and technology park, in November the building of RTV Vojvodina, while in December the work on the reconstruction of the Clinical Center of Vojvodina will be underway. Joint powers and unity is what adorns us and we will not stop, "he said.

Milos Vucevic said that this is the third boulevard in Novi Sad that has been opened, and that there are three more.

"There is no longer any debate about whose jurisdiction it is. Republic, province and the city are working together, we are united, and thanks to the support and assistance of the Republic and Provincial governments, we will continue with infrastructure projects. Klisa, Slana bara and Vidovdan settlement are not provinces, they are a part of Novi Sad, " he said.

Sentandrejski boulevard is one of the busiest city roads and is part of the state road connecting Subotica and Belgrade. The total value of the works is 702 million dinars.