Mihajlovic in Kragujevac: We are building 1,000 apartments, Kragujevac-Batocina road will be ready in September
Fri, 05-15-2020 - 13:23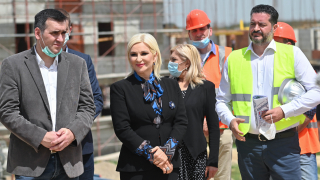 Deputy Prime Minister and Minister of Construction, Transport and Infrastructure, Prof. Zorana Mihajlovic PhD, visited today works on the construction of the apartments for members of the security forces in Kragujevac, with  Mayor of Kragujevac, Radomir Nikolic.

On that occasion, Mihajlovic pointed out that 216 apartments in this city are currently being completed and that half of them have already been sold.

"Nearly a thousand apartments worth 33 million euros will be built in Kragujevac, while the value of all apartments being built in seven cities is over 70 million euros. I am proud of the construction sector, thank you to all the companies and workers because they worked all the time during the state of emergency. "Serbia did not stop at any moment during the epidemic," she said.

Deputy Prime Minister also said that at one of the next sessions of the Government, the proposal that these apartments can be bought by both health and education workers will be considered.

Earlier today, Mihajlovic visited works on the construction of Kragujevac-Batocina road.

"In September, we will have completely finished this road, which has been waiting for too long and which has been built for too long," she said.

Radomir Nikolic thanked Deputy Prime Minister Mihajlovic and the Ministry for their help in connection with this project.

"We are moving forward at full speed with the housing construction project. Kragujevac got a completely new settlement. Along with the apartments, we are also moving towards the construction of road infrastructure, as well as accompanying facilities," he said.

Nebojsa Surlan, director of the Construction Directorate of Serbia, said that 1,500 apartments would be completed by the beginning of 2021, and another 4,500 apartments by the beginning of 2022.

"In Kragujevac, in the first phase, we are building 216 apartments. We have announced three more tenders for other apartments, the construction of which will begin in May and June this year. The deadline for completion is 18 months. The price of a square meter in Kragujevac is 430 euros plus VAT ", said Surlan.