Mihajlovic launches 16 Days of Activism Campaign in Serbia
Fri, 11/22/2019 - 21:11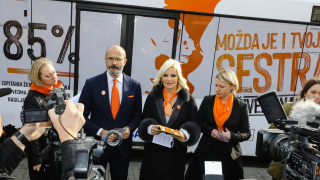 "Almost half of women in Serbia, or 1.7 million of them, experience some form of violence, whether we are talking about physical, psychological, economic or sexual harassment and persecution. The whole world will, over the next 16 days, also draw attention to the extent of which violence is unacceptable and that we must all fight against it," said Deputy Prime Minister and President of the Coordination Body for Gender Equality, prof. Zorana Mihajlovic PhD.
When announcing the campaign "16 Days of Activism Against Violence Against Women," she emphasized that violence goes beyond institutions and laws, which are in line with international documents, that a high level of stereotypes and prejudices is present, and that further education is needed, which starts from early age, from families.
"In the past 11 years, 320 women have been killed in domestic and partner violence, 400 children have remained orphaned. We have all failed together when only one woman suffers violence, let alone when she loses her life. Women today are more encouraged to report violence, speak more on this topic and it is important that, not only in these 16 days, but throughout the year, we work to prevent violence.
 
Sem Fabrizi, Head of the EU Delegation to Serbia, said that violence is not only happening in Serbia, but all over the world, and that we all have a collective and individual responsibility to do something to prevent it.
"As a man, but also as a husband, father, brother and son, and as a representative of the European Union, I will continue to contribute to the fight against violence against women and girls. This year, we came out with these buses with important messages, to raise public awareness about the harmfulness of violence, which takes many forms, can be economic dependency, gender inequality, inaccessibility to health care, but also sexual and physical violence, "Fabrizi said.
 
Jelena Sekulic from the United Nations Agency on Gender Equality and Women's Empowerment (UN Women) said that almost every third woman in the world has experienced some form of violence, and that UN Women in cooperation with the Coordination Body and the EU Delegation has moved the campaign to the streets this year, to make the general public aware of the problem of violence.
"It is important for our fellow citizens to ask and think when they see these messages, because maybe someone from their immediate environment is a victim of violence. Each of us knows someone who has experienced some type of violence, given the statistics, " she said.
 
The global campaign "16 Days of Activism" is marked all over the world and begins on November 25th with International Day Against Violence Against Women and ends on December 10th, when International Human Rights Day is celebrated. The aim of the campaign is to raise public awareness and take action to combat violence against women and girls.