Mihajlovic: More than 1,500 workers are working on construction sites of major infrastructure projects in Serbia  
Mon, 03-23-2020 - 15:21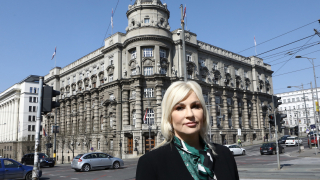 Deputy Prime Minister and Minister of Construction, Transport and Infrastructure, prof. Zorana Mihajlovic PhD, said today that a total of 1,529 workers were hired at the construction sites of the largest road and railway infrastructure projects in Serbia today and that the works are being carried out with the implementation of all measures envisaged to combat the infectious disease COVID-19.
"The number of workers is in line with the phase in which the works are located, so the largest number of workers, totaling 443, is working on the construction of a section of the fast railway track from Stara Pazova to Novi Sad. At this site, where the works are carried out by the Russian Railways, there are also 293 units of mechanization. On the second section of Belgrade-Budapest highway, from Belgrade to Stara Pazova, where contractors of the Chinese company "CCCC" and "China Railway International" are contracting 362 workers today," Mihajlovic said.
There are 350 workers and 107 units of machinery on the bypass around Belgrade, on the section under construction from Ostruznica to Bubanj Potok, where the main contractor is Chinese company "Power Power".
At the construction site of Morava corridor, ie Pojate-Preljina highway, on which the consortium of companies "Bechtel" and "Enka" is the main contractor, there are 62 workers present at the construction site, as well as 23 mechanization units.
The section of Milos the Great highway from Pozega to Preljina, where the contractor is a Chinese company "CCCC", works are performed by 58 workers and 23 mechanization units are engaged.
The construction of Belgrade-Sarajevo highway section, from Sremska Raca to Kuzmin, currently has 86 workers from the Turkish company "Tasyapi", 11 works from home, and 55 construction machinery are on site. On the second construction site of the same company, on reconstruction of the state road Novi Pazar - Tutin, 45 workers were engaged, as well as 23 units of mechanization.
On the section of Corridor 10, from Jajinci to Mala Krsna, works are being carried out today by a total of 112 workers, the contractors being the French company "Colas" and Serbian "Energoprojekt".
Mihajlovic appeals to all contractors to carry out the work with due regard for all measures to ensure the safety and health protection of workers, both at the construction site and within the camps, where special precaution is required in order to control the transmission of the infectious virus during the COVID-19 pandemic.