Mihajlovic with new director of Chinese railways in Belgrade: Belgrade-Budapest high-speed railway the most important project of Serbia and China
Mon, 09-21-2020 - 09:50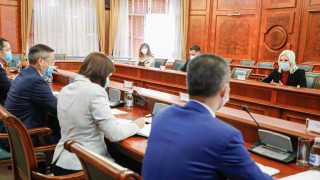 Deputy Prime Minister and Minister of Construction, Transport and Infrastructure, prof. Zorana Mihajlovic, phD, met today with the director of the Chinese company "China Railway International Company" (CRIC) Jia Yingge, with whom she talked about the implementation of the project of modernization of the high-speed railway from Belgrade to Budapest. The meeting was also attended by the economic adviser at the Embassy of the People's Republic of China in Serbia, Tang Xiaodong.

Mihajlovic wished a welcome to the director of the company CRIC, which is performing works on the construction of the section from Belgrade to Stara Pazova, expressing the expectation of the continuation of successful cooperation.

"This is the most important infrastructure project between our two countries, I expect that with your arrival the works will be even more efficient and that in the fall of next year we will reach Novi Sad by fast train in half an hour by modern trains." "The state and the Ministry are, as before, there for 24 hours to provide every help and support so that the works progress and take place in the best quality," she said.

Deputy Prime Minister added that a lot is being built in Serbia, but that for the first time a high-speed railway is being built for the projected speeds of 200 km per hour.

"This is a project backed by two presidents, Aleksandar Vucic and Xi Jinping, it is a project of our two countries and two peoples, and it is important that everything runs according to the agreed dynamics and plan. It is a complex business, but we are in it together, for the benefit of our citizens "; said Mihajlovic.

Jia Yingge informed the Deputy Prime Minister about the progress and dynamics of works on this section, expressing gratitude for the support and assistance of the Ministry.

"The construction of a high-speed railway from Belgrade to Budapest is in the common interest of the two countries, and our obligation as a contractor is to realize that." We worked all the time during the state of emergency, the delivery of materials and equipment is stable and we perform all works in accordance with European standards," he said.

Tang Xiaodong thanked the Ministry for the work and help, saying that the construction sector is extremely important in maintaining the economy and economic growth during the epidemic caused by the corona virus.