Mihajlovic: New projects with the Chinese company CRBC in Serbia
Mon, 01-13-2020 - 08:18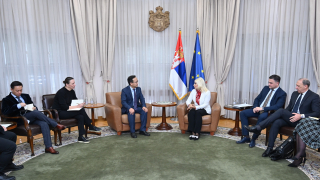 Deputy Prime Minister and Minister of Construction, Transport and Infrastructure, prof. Zorana Mihajlovic PhD, met today with Zhang Xiaoyuan, deputy director of Chinese company CRBC for Europe, and discussed with him current and future infrastructure projects that the company is implementing in Serbia.

"We have excellent cooperation with CRBC and successfully completed projects. We are glad that we will continue this cooperation on new projects important for Serbia, such as Fruska Gora Corridor and highways Valjevo-Iverak and New Belgrade-Surcin," Mihajlovic said.
She also talked with Zhang about the dynamics of the construction of section "Milos the Great" from Preljina to Pozega, and about the preparation of design documentation for the section from Pozega to Boljare.

"As before, you have the full support and assistance of the ministry I lead. We are also glad that you are interested in the reconstruction of Belgrade-Nis-Presevo railway line, in accordance with our plans for trains to run 200 kilometers per hour on that line," she said.

Zhang Xiaoyuan thanked the Ministry for its support so far, underlining his satisfaction with the successfully implemented projects and his belief that this cooperation would be even better on new projects.