Mihajlovic: Nine million dinars to support safe houses and shelters, you are not alone in your fight
Mon, 06/10/2019 - 14:27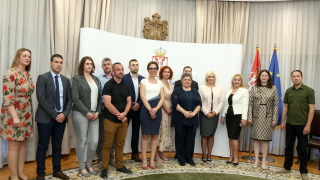 Deputy Prime Minister and Minister of Construction, Transport and Infrastructure, prof. Zorana Mihajlovic PhD., today signed contracts worth nearly nine million dinars for the implementation of projects of safe houses, shelters and shelters for children and said that neither victims of violence nor those working in these institutions are not alone.
 
"This is the third year that the Ministry of Construction, Transport and Infrastructure allocates money for this purpose, which may not be large, maybe it is symbolic, it is one type of support for organizations that do everything to improve the conditions in safe houses and institutions where children are staying" Mihajlovic said, addressing journalists after the signing of the contract.
She pointed out that the Government of Serbia and Ministry of Construction, Transport and Infrastructure build and restore roads, bridges, railways, airports and river infrastructure for the citizens of Serbia, but that everything that is done in this area is not enough as long as there are women who suffer from violence, or children that nobody cares for or who suffer from some form of violence.
 
"Everything we build and do materialistically, is not enough if we forget to think of people around us. Only when we do not allow any woman or a child to suffer would we be on our way to create a successful and modern country, " said Mihajlovic, who is the president of the Coordination Body for Gender Equality.
 
Deputy Prime Minister said that people that work on protecting victims of domestic violence and who are protecting and caring for children are heroes who are not alone in their struggle, nor are women and children who have suffered from some type of violence.  
The head of the Safe House in Sombor, Tamara Savovic, said that every house in Serbia should be safe and secure, and that this is not only a question of the secrecy of the location of safe houses, but also everything that the country is doing to provide security and protection of victims of violence.
 
The director of the Center for Social Work in Leskovac, Predrag Momcilovic, thanked Deputy Prime Minister and the Ministry for their support to the institution through projects for the third consecutive year and said that the approved funds will help to improve the living conditions in this institution, which exists in Leskovac since 2004.
 
Ministry of Construction, Transport and Infrastructure allocates money for the realization of projects in the field of social housing through a public competition.
Today, nine contracts were signed with civil society organizations and associations totaling 8.75 million dinars for projects involving seven safe houses - from Nis, Leskovac, Vranjska Banja, Sremska Kamenica, Sombor, Smederevo and Sremska Mitrovica, a children's shelter and shelter for young people from Kragujevac and children's center from Belgrade.
 
The main goal of the competition is realization of projects for carrying out works on the facilities for housing care of victims of domestic violence and children in order to improve their living conditions.