Mihajlovic: No construction site will stop for election
Fri, 02-28-2020 - 09:20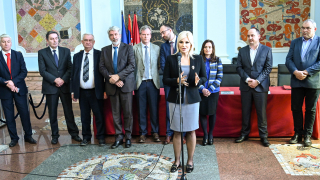 Потпредседница Владе Србије и министарка грађевинарства, саобраћаја и инфраструктуре, проф. др Зорана Михајловић, рекла је данас у Крушевцу да нема разлога да било који инфраструктурни пројекат у земљи стане због кампање и предстојећих избора.
"Било је неколико избора у претходних седам година, па то није зауставило реализацију пројеката, а изградили смо толико нових ауто-путева. Сви пројекти одвијају се по плану и у друмском, железничком, водном и ваздушном саобраћају", рекла је Михајловићева одговарајући на питања новинара после потписивања о заједничком управљању комуналним отпадом у Крушевцу.
Она је подсетила да је од 2014. године, кад смо имали само једно инфраструктурно чвориште, а то је Београд, Србија дошла до тога да данас имамо неколико таквих чворишта.
"Ниш је постао саобраћајно чвориште завршетком комплетног Коридора 10 и развојем нишког аеродрома, до Чачка данас имамо ауто-пут, а у близини и аеродром. Крушевац такође постаје једно од таквих чворишта, јер у близини има два аеродрома, а за две године ће бити спојен ауто-путем са Коридором 10 јер се гради Моравски коридор. То је суштина улагања у инфраструктуру, да повежемо све видове саобраћаја до свих најважнијих градова у Србији, а то је важно због људи који у њима живе, да би остали у својим местима и имали добар живот", навела је она.
Deputy Prime Minister and Minister of Construction, Transport and Infrastructure, prof. Zorana Mihajlovic PhD, said today in Krusevac that there is no reason for any infrastructure project in the country to stop because of the campaign and the upcoming elections.

"There have been several elections in the last seven years, so this has not stopped the realization of projects, and we have built so many new highways. All projects are going according to plan and in road, rail, water and air traffic," said Mihajlovic, answering questions from journalists after signing on joint management of municipal waste in Krusevac.

She reminded that since 2014, when we had only one infrastructure hub, and that is Belgrade, Serbia, it came to us that we have several such hubs today.

"Nis has become a traffic hub with the completion of the entire Corridor 10 and the development of Nis Airport. Krusevac is also becoming one of these hubs, as there are two airports nearby, and in two years it will be connected by highway to Corridor 10 as Morava Corridor is being built. That is the essence of investing in infrastructure, to connect all modes of transport to all the most important cities in Serbia, and this is important because of the people who live in them, in order to stay in their places and have a good life, "she stated.