Mihajlovic with PE "Roads of Serbia" and "Corridors of Serbia" : We have completed a huge job, new projects ahead of us
Wed, 01-15-2020 - 15:13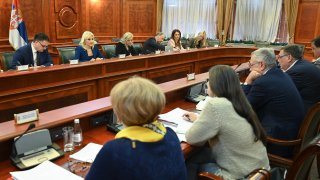 Deputy Prime Minister and Minister of Construction, Transport and Infrastructure, prof. Zorana Mihajlovic PhD, met today with the Directors of "Corridors of Serbia" and PE "Roads of Serbia", Zoran Babic and Zoran Drobnjak, and discussed with them infrastructure projects that are underway.

"We have completed some serious work and big projects together in 2019, it was rightly a year of infrastructure, and I believe that we will successfully implement all other projects that we have started in the meantime and which are just planned within the new investment cycle Serbia 2025" said Mihajlovic.

Deputy Prime Minister informed directors Babic and Drobnjak that the Ministry is here to provide all the necessary support and assistance, as it has done so far, and that it expects all projects to be implemented according to the agreed dynamics.
Among other things, the meeting focused on the construction of Morava Corridor and high-speed highway Ruma-Sabac-Loznica, for which the investor was the investor of PE "Corridors of Serbia", as well as the continuation of the construction of "Milos the Great" from Preljina to Pozega, Nis-Plocnik highway, Fruska Gora corridor, as well as Sremska Raca - Kuzmin highway, Kragujevac-Batocina roads and bypasses around Belgrade, where PE "Roads of Serbia" is an investor.

They also discussed the preparation of documentation for the section Novi Beograd - Surcin, the construction of section Valjevo-Iverak and Batajnica loop, as well as the rehabilitation of roads, where 237 kilometers were completed, 238 kilometers are currently being worked on, and it is planned to make contracts for another 360 kilometers.