Mihajlovic in Pranjani: 70 million dinars for the Memorial Complex of Operation Halyard
Mon, 09-28-2020 - 15:01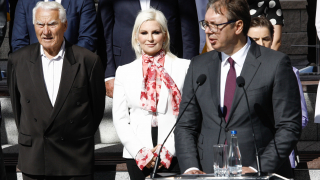 Deputy Prime Minister and Minister of Construction, Transport and Infrastructure, prof. Zorana Mihajlovic, PhD, attended today with the President of the Republic Aleksandar Vucic the celebration of the 76th anniversary of Operation "Halyard" in Pranjani near Gornji Milanovac. On this occasion, she stated that thanks to the initiative of President Vucic, and with the huge commitment of the Ministry of Construction, a memorial complex was built in just one month, as Serbian and American people deserve.

Mihajlovic pointed out that the value of the entire complex, which includes a memorial center in the shape of a C-47 plane which evacuated American soldiers and a runway, amounts to 70 million dinars.

"At the initiative of President Vucic, that money was provided from the state budget and paid to the Halyard Foundation." Great support was also provided by the cities of Cacak and Gornji Milanovac, as well as several public companies - "Serbian Airports", EPS, "Ski Resorts of Serbia" and "Telekom Srbija". Serbian people deserve to have a memorial center as a reminder of the courage and bravery they showed in 1944 by rescuing Allied soldiers. "We are leaving this complex as a legacy to the young generations, to forever remember the feats of Serbian women and men in the fight against evil," she said.

Deputy Prime Minister added that we should all be proud of the courage of our peoples and happy because of the friendship that the Serbian people built with the Americans during the war years.

"Serbia and the United States have never forgotten this sacrifice and friendship. I am convinced that our relations will be even better in the future, which is contributed by the responsible policy of President Aleksandar Vucic and the Serbian government. Let Galovic field be a symbol of the foundation of our future relations and cooperation ", she concluded.

Within the complex on an area of ​​17 hectares, a memorial center was built in the shape of a C-47 aircraft on an area of ​​2,500 m2, a runway with a natural surface 600 m long, a heliport and a parking lot for planes and buses. The realization of the project included all activities - from resolving the issue of land, preparation of project-technical documentation, to the construction of the complex.