Mihajlovic: Projects with the American DFC are important for regional connections
Thu, 09-24-2020 - 11:06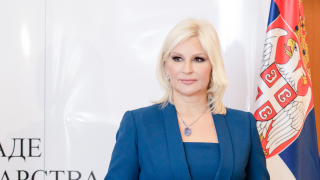 Deputy Prime Minister and Minister of Construction, Transport and Infrastructure, prof. Zorana Mihajlovic, phD, said today that the projects discussed with the International Development Finance Corporation (DFC) are important for the regional connection of Serbia, as a transit hub in the region.

"The US Development Agency has not been here for only a few days, they were here also in February and we will continue to work with them in the coming period, with their regional office. The value of the projects we have discussed so far is around 3.7 billion euros. For the first section of Nis-Merdare highway, from Nis to Plocnik, we have already secured financing from European funds, the European Investment Bank, as well as the European Bank for Reconstruction and Development, and an international tender for the selection of contractors is expected in late October or early November. For the second section, from Plocnik to Merdare, we do not have secured financing, and we will discuss this in parallel with the preparation of documentation. Also, the priority is to connect Nis and Pristina by rail, where now trains from Nis to Merdare go about thirty kilometers per hour and where technical documentation should be done," said Mihajlovic as a guest on TV Prva.

She emphasized that Serbia is the central country in the region and that other projects that are important for regional connection were discussed with the DFC.

"They also talked about the railway connection of Serbia with Bosnia and Herzegovina, about the highway to Romania for which we could have documentation next year, about the fast road Sombor-Kikinda, which would include the connection with Hungary and Romania. As early as next year, many projects could be ready, especially when it comes to project documentation ", she stated.

Asked about the way of financing these projects, Mihajlovic said that it would be partly from a loan, but that donations and technical assistance in the preparation of documentation were also discussed. She added that the best world companies from China, Russia and the USA are already working on infrastructure projects in Serbia, and that she expects that the best world companies will also work on new projects.

Mihajlovic also said that it is important that within the cooperation with DFC, the topic of women's entrepreneurship will be found, through strengthening the social responsibility of companies and supporting women's entrepreneurship, not only in founding companies, but also in maintaining them in a period critical to their survival and growth.