Mihajlovic: Proposals for faster implementation of infrastructure projects
Mon, 01-27-2020 - 14:32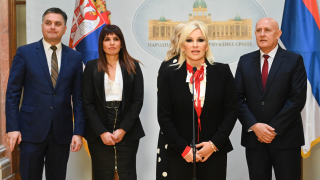 Deputy Prime Minister and Minister of Construction, Transport and Infrastructure, prof. Zorana Mihajlovic PhD, said today that the laws proposed by the Ministry and which are being debated in the National Assembly today will enable faster and more efficient implementation of large infrastructure projects.

"We are defending 13 MPs and decisions before the national envoys, which are important for faster implementation of infrastructure projects. I expect a serious debate, there are many amendments and I hope that the laws that are passed will be even better after the parliamentary debate, "Mihajlovic told reporters in the National Assembly before the session began.
Speaking about the Bill on Special Procedures for Implementation of Projects for Construction and Reconstruction of Line Infrastructure Facilities of Special Importance for the Republic of Serbia, Mihajlovic said that the Ministry has a lot of experience in the implementation of large projects and that in the previous period there were many problems in solving property-legal relations. "Because of this, construction permits have often had to change as well, which takes a long time and that is why we have proposed a special law that will regulate this, in order to speed up projects' implementation," Mihajlovic said, and reminded that the Ministry has planned to start 2020 with the implementation of projects from the new investment cycle, worth about five billion euros.

When asked for a newspaper about the Bill amending the Planning and Construction Law, Mihajlovic said that by adopting these amendments, domestic regulations would be further aligned with European Union regulations, as well as the construction permit process. "In the part of issuing licenses for engineers, we will have a simpler procedure, but engineers will also have an obligation that their professional development is continuous, because the construction profession is constantly progressing," Mihajlovic said.
She added that besides the laws in the field of construction, there are also the laws in the field of road, air and water transport.