Mihajlovic: Reform of Roads of Serbia is necessary for further development and more efficient work
Sat, 02-15-2020 - 08:10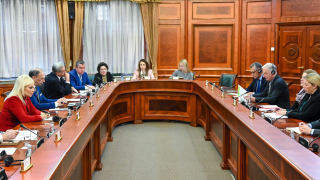 Deputy Prime Minister and Minister of Construction, Transport and Infrastructure, prof. Zorana Mihajlovic PhD, held a meeting of the Road Sector Reform Task Force in Serbia today, discussing the results to date and the activities ahead.

Mihajlovic emphasized that the Ministry of Transport is not satisfied with the efficiency and competitiveness of Roads of Serbia and that she expects that this reform will lead not only to better quality of the road network, but also to obtaining a profitable public company, with clearly defined obligations and responsibilities.

"We have done a lot in the previous period, because without reform in the road sector there is no further progress. We are aware of the existing capacities and critical points and are not completely satisfied with the efficiency of Roads of Serbia. Together with our consultants and international partners, we will define the basic directions of both the road sector reform and the restructuring of this company in order to operate more efficiently, increase the capacity of all relevant institutions, but also build, maintain and improve road safety," she said.
At the meeting the signing of a contract between the Government of Serbia and the Public Company Roads of Serbia has been discussed in particular, which would precisely define the levels of services and establish a clear timetable for works and structural reforms.

Deputy Prime Minister thanked the representatives of all resor ministries, World Bank, European Bank for Reconstruction and Development, as well as European Investment Bank for their hard work and support in planning and implementing road transport sector reform.

Representatives from the World Bank, EBRD and EIB stressed that this is a major step in the reform process and, as a result of the institution's three-year work, will continue to support program implementation.
In addition to the representatives of the Ministry of Construction, Transport and Infrastructure and mentioned financial organizations, the meeting was attended by representatives of the Ministry of Finance, Ministry of Economy, Ministry of Interior Affairs, PE Roads of Serbia, PE Corridor of Serbia and consultants.