Mihajlovic on regular air traffic: Agreements on protection measures for passengers are still ongoing
Tue, 05-12-2020 - 13:06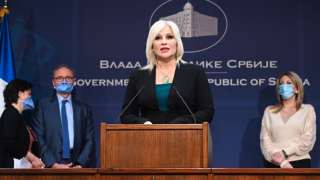 Deputy Prime Minister and Minister of Construction, Transport and Infrastructure, Prof. Zorana Mihajlovic, stated today that no country in the world currently has clear protocols on what it will look like to travel on regular airlines, and that agreements on protection measures are still ongoing in our country.

"At today's session of the Crisis Staff for Health, we will discuss the conditions and recommendations for air travel - whether a PCR test will be necessary and when or whether going to self-isolation will be enough. "What is certain is that everyone will have to wear masks, and negotiations are underway, not only in our country, but also on the possibility of keeping a distance on the plane, which will automatically raise the price of tickets and affect the economy," she said.

Mihajlovic reminded that there are currently no regular airlines anywhere in Europe, and that the announced four flights of "Air Serbia" to London, Frankfurt, Vienna and Zurich are not regular flights, but are made to bring back our citizens who want to come back to Serbia.