Mihajlovic: At the request of the citizens of Velika Plana, with the reconstruction of the road we will also do 3.5 km of sewage
Mon, 08/12/2019 - 14:37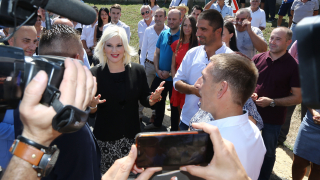 Deputy Prime Minister and Minister of Construction, Transport and Infrastructure, prof. Zorana Mihajlovic PhD., said today, during a visit to the works on the section Velika Plana - Smederevska Palanka, that at the request of the citizens of Velika Plana, within the reconstruction of the road, the sewer they were looking for would be made.

"When I saw the justified request of the citizens of Velika Plana to receive sewage, I gave the order to PE "Roads of Serbia" to suspend the works for the remaining 3.5 km of reconstruction of the road until people get sewage, and the Municipality together with the Public Investment Office will provide the funds" , said Mihajlovic, who is visiting Podunavski district today.

"Every house in Serbia should have both water and sewage, and we have no money to throw away to make the road that we would have to dig again for sewage," she added.