Mihajlovic: Roma women are the most sensitive group, zero tolerance for all forms of violence
Thu, 09-19-2019 - 14:51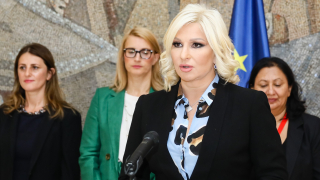 "The Government of Serbia is clearly committed to making all citizens of our country, of any gender, nationality or age, live in a society free from violence, because zero tolerance for all forms of discrimination and violence is our goal," Deputy Prime Minister and President of the Coordination Body for Gender Equality, prof. Zorana Mihajlovic PhD., said today.

At the opening of the regional conference "United to Stop Violence Against Women" at the Palace of Serbia, she pointed out that statistics are devastating when it comes to the position of Roma women in society, but that this does not mean that we should be discouraged and not do everything to improve the situation.
"Roma women are one of the most vulnerable groups of society. It is important that we are all at the table today - both the state and the non-governmental sector, but also our international partners, because this is not a problem of one government and one organization. Day-to-day combat, continuous work and coordination are key to solving problems," she said.

Mihajlovic added that one of the biggest problems for Roma women is child marriage and early marriage, and that the state will amend the Family Law to combat this problem.

"It is also important that we work to change the consciousness of the general population, to point out that this is not a matter of tradition and culture, but a serious violation of human rights and a form of abuse of girls," she said.
Blerta Cela, UN Women's Deputy Director for Europe and Central Asia, said a regional report will be presented today, outlining the challenges the four countries in the region are facing, as well as recommendations on how to overcome them.

"It is important that when designing policies and measures, we take into account the needs of both women and men, and especially vulnerable groups. The principle that we should all adhere to is that no one is left out," said Cela.

Mateja Norcic Stamcar, Deputy Head of the EU Delegation to Serbia, pointed out that Roma are the largest minority in Europe and the most discriminated against.
"The European Union will continue to support the efforts of Government of Serbia to improve the position of Roma in the community. So far, we have invested € 11 million, and by the end of the year another € 20 million will be spent on programs that focus on registering newborns in registries, housing, employment and scholarship," she said.

Slavica Vasic from Roma Women's Center "Bibija" said that for the past 20 years this organization has been striving to be the voice of Roma women in Serbia, and that it is important that we join our forces to tackle the problem Roma women are facing.

"Today we will adopt joint statements and recommendations to help develop measures aimed at eliminating the multiple discrimination that Roma women are exposed to," Vasic said.