Mihajlovic on RTS: Without solidarity, women will not have greater rights
Wed, 02-12-2020 - 09:12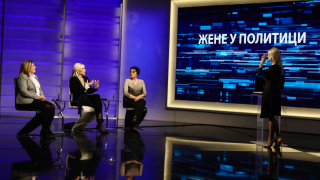 "I am pleased that the Serbian Progressive Party has passed such an important law that we have 40 % of women in the Parliament and local assemblies. It is important for women to get involved in political life and all spheres of society and to contribute to the creation of a modern and open Serbia," said Deputy Prime Minister of Serbia and President of the Coordination Body for Gender Equality, Prof. Zorana Mihajlovic PhD, when she was a guest on the program "Questionnaire" on RTS.

She emphasized that since the fight for women's rights, the first and foremost word for women is solidarity, because without solidarity among women there will be no greater women's rights.

"Attitudes towards women in politics need to change. I also hope that the new Parliament with 40% of women in it will make it much easier to pass the new Gender Equality Act, which we have been waiting for so long, and which at the time the Coordination Body was preparing it with partners implied the introduction of 40% quotas in many institutions, but and the introduction of gender-sensitive language, gender-responsive budgeting, and certain responsibilities. And then and now I believe that Serbia is ready for it," she said.
Mihajlovic also pointed out that quotas are very important when there are no women to be, but that it will not be easy to provide 40 % of women locally.

"Women are rational, they will hardly decide to enter politics when they see the status of women in politics today. But we are still pioneers and we are here to lead the way for new generations of women to enter politics and be part of every sphere of life. Gender equality is a common theme for both women and men and the only important question is whether we will become modern and developed Serbia," she said.

Deputy Prime Minister added that she deeply believes in what she is doing in the fight for women's rights, and that this is the reason why she goes to Parliament, not for people to defend her from attacks.

"I am proud of everything we have done as SNS and myself as a party member through the ministry I lead. I do not plan to get out of political life, nor do I think that President Aleksandar Vucic may step down as SNS President because he is the SNS. I have full confidence in him and I love working with him," she concluded.